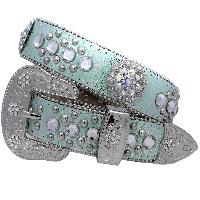 If you own a store that sells clothing and accessories for women and girls, you know how hard it can be to find the right products to offer. You want to sell items that will appeal to many customers, but you also want to set your store apart from others in the area and offer products that are not found everywhere else. You want to offer quality merchandise that will last a long time so your customers will keep coming back to your store whenever they need new clothing or accessories.
Why You Should Sell Western Clothing and Accessories
Western fashion is popular with many women and girls all over the United States. They love to wear shirts, dresses, and accessories decorated with glittering rhinestones and phrases that evoke the spirit of the West. You can draw in new customers and make them keep coming back to your store in the future if you offer a selection of Western apparel and accessories.
Fashionable Western Clothing
Best Handbag Wholesale offers an impressive selection of Western apparel. We carry an assortment of cowgirl t-shirts with rhinestone studs that are popular with women and girls who like Western fashions. Our comfortable t-shirts are made from 95 percent cotton and 5 percent spandex. We also offer long-sleeved Western t-shirts that are perfect for cooler fall weather. In addition, Best Handbag Wholesale has a selection of beautiful women's ruffle dresses with rhinestone studs in double print designs and zebra trim.
Stylish Western Accessories
An outfit is not complete without accessories. Best Handbag Wholesale has a collection of Western belts made from genuine cowhide leather. Our Western belts are decorated with rhinestones, glass crystal ornaments, and turquoise pendants. They come in a wide range of sizes for both adults and children.
We carry a selection of Western hats and caps. Our headwear is decorated with a variety of phrases and themes so women and girls who wear hats from Best Handbag Wholesale can make a fashion statement.
We also offer a selection of Western boots at Best Handbag Wholesale. Our boots are made from high-quality upper suede material and decorated with rhinestone patterns. They are warm, comfortable, and fashionable, making them perfect for winter.
Order Western Apparel and Accessories from Best Handbag Wholesale
Western fashion is growing more and more popular all the time. You can make your store stand out and draw in new customers by offering a selection of stylish Western apparel and accessories. When customers see that your store offers a wider selection of products than others, they will keep coming back. Best Handbag Wholesale has a wide array of Western clothing, belts, hats, and boots. Place your order today.