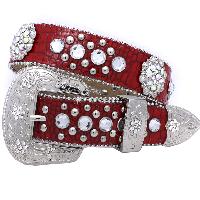 During the summer, many vendors set up tables and booths to sell their goods at flea markets. People often come from all over the surrounding area to look for stylish and affordable clothes, accessories, and other items. If you are planning to sell accessories at a flea market this summer, you should have a selection of stylish belts to offer.
Why You Should Sell Belts from Best Handbag Wholesale at a Flea Market
Best Handbag Wholesale carries a collection of fashionable Western belts that are sure to be a hit at your flea market. Our belts are made from quality materials and are the perfect way to accent any Western outfit. You can attract dozens of new customers by offering a selection of Western belts at your flea market.
Best Handbag Wholesale offers a collection of genuine hair-on-hide belts. Our belts have a double screw on the belt buckle that makes it easy for the wearer to adjust the size of the belt. Our hair-on-hide belts are decorated with genuine glass, crystal studded ornaments, turquoise crosses, pendants, and other features.
Many of the Western belts offered by Best Handbag Wholesale have genuine cowhide leather belt straps with double screw-on belt buckle tabs. They are designed with rhinestones, glass crystals, and turquoise pendants to complement any Western ensemble.
Customers are often frustrated because they have trouble finding belts that fit comfortably. Best Handbag Wholesale offers belts in a wide range of sizes, from small to 4XL.
Our belts are available in many colors, including black, white, pink, green, and purple. We offer belts for women, men, and children so your customers can find something for the whole family at the flea market.
Order Belts from Best Handbag Wholesale to Sell at Your Flea Market
A flea market is an excellent place to sell accessories. People often come from the surrounding area to look for stylish goods at bargain prices. You can attract new customers to your booth by offering a collection of stylish Western belts made from leather and decorated with glittering ornaments.
Best Handbag Wholesale is a leading supplier of fashionable Western belts. We offer an impressive collection of belts in a variety of sizes and styles that can help you appeal to a wide range of customers. Look through our selection and order belts to sell at your flea market today.