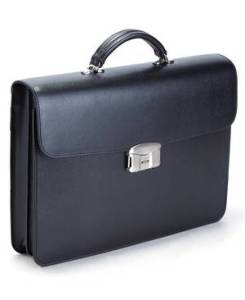 Royce Leather has launched a new line of handbags, briefcases, and wallets for men and women with technology that can scan fingerprints so that only its owner can access its contents. Technology can also track the item's location to prevent theft of its contents or of the owner's identity. The items were designed by Royce Leather CEO Andrew Royce Bauer.
Approximately 13.1 million Americans were victims of identity theft in 2013. The briefcases, handbags, and wallets are equipped with RFID technology certified by the United States government to prevent identity theft. The technology can block scanning devices that can be used to read and store personal information from contactless smart cards. The items have a conductive layer that creates a barrier to limit the flow of RF energy between the reader and the smart card or other RFID device.
Bauer wanted to improve the function of a traditional wallet so that its owner would never lose it. The wallets have GPS tracking to locate them if they are lost. A tracker inside the wallet uses a Bluetooth connection to iOS and Android devices located within 100 feet of the wallet.
The technology used in the accessories was designed in California. Bauer believes his products will reduce time, stress, and anxiety for consumers because they will no longer need to worry about where their money is.
The handbags, briefcases, and wallets combine luxury design, materials, and craftsmanship with 21st century technology. They are made from Italian Saffiano leather and hand-milled hardware. The new items are part of a larger Royce Leather fashion accessories collection.
Royce Leather is one of the United States' fastest growing corporations financially. It was founded in 1974 in New York City and was originally known as Emporium Leather. The family-owned company is currently under Andrew Royce Bauer's creative direction. It creates handmade handbags, travel goods, and accessories for aspirational customers who seek functional pieces made with ethical manufacturing methods.