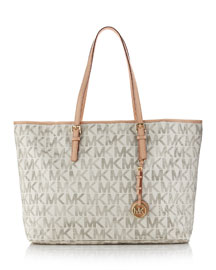 While some makers of luxury goods, including handbags, have experienced declining sales due to economic slowdowns in China and Europe, others are growing.
Prada saw declining sales in 2013 in important markets, including China and Italy. Unfavorable exchange rates also played a role in the fall in sales, especially in the third quarter of fiscal year 2013. Prada's shares fell throughout 2013. The company's fiscal 2013 report suggested that sales are not improving and that the company will have to take steps to deal with the economic slowdown. Prada is opening new stores, increasing its manufacturing capacity, and expanding its menswear and Miu Miu brands. The company expects its sales and operating margin to improve in 2015.
LVMH Moet Hennessy Louis Vuitton experienced a 9 percent growth in its fashion and leather goods earnings in the first quarter of 2014. The company has hired a new creative director, who introduced the well-received new models for the Monogram line. The company also opened two new stores, and Loro Piana, which LVMH bought last year, fared well. LVMH has also experienced challenges in Europe and is focusing on developing its brands and keeping costs down.
Michael Kors has experienced phenomenal growth of late. The company has seen dramatic growth in both North America and Europe due to brand awareness and increasing demand. Michael Kors has become synonymous with "affordable luxury" that leads to repeat customers.
Research firm Altagamma anticipates that the sale of luxury goods will grow by 3 to 5 percent from 2015 to 2016.