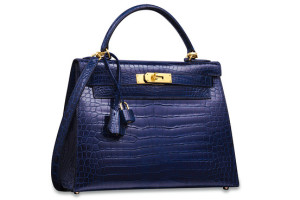 Christie's conducted its first live auction of over 120 luxury handbags from top designers, including Hermes, Chanel, Bottega Veneta, and Louis Vuitton, in Hong Kong on November 24. The collection of handbags is estimated to be worth nearly $1 million.
The auction house hoped to draw in new buyers who have not participated in auctions before and to attract newly wealthy members of Asian society. Hong Kong has become the world's third largest auction center, after London and New York.
The auction was expected to reinforce demand for luxury goods such as handbags and to increase appreciation for their enduring value. It should also benefit people who already own luxury handbags. Auctioning the vintage bags highlighted their craftsmanship, sophistication, and materials, which could reinforce the value of handbags that people already own.
Luxury handbags can cost thousands of dollars when new. These vintage handbags stand out because many of them come from limited editions with unusual hardware or exotic skins, such as porosus crocodile and ostrich. Some of the handbags are also offered in colors that have been discontinued.
The collection included handbags prized for their rarity, craftsmanship, and heritage. Many of the bags are in excellent condition. The selection included a 1993 Hermes Kelly handbag made from saltwater crocodile skin in sapphire blue and a matte gray crocodile skin Hermes Birkin, which were expected to sell for tens of thousands of dollars each.
Christie's is hoping to expand its reach in the secondary market for luxury handbags, which are often in demand for collectors who consider them a wise investment. Buyers of secondhand goods may not be able to tell if an item is authentic. A reputable auction house like Christie's can verify authenticity and protect buyers and sellers. Christie's will not provide certificates of authenticity, but it will guarantee any statements made about the handbags for five years.
Christie's created a separate Handbags & Accessories category in 2011 and began selling bags online based in London. This is the first time Christie's has sold handbags as a separate category at a live auction.