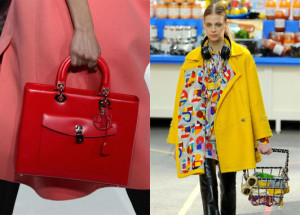 Designers, models, fashion reporters, buyers, and celebrities descended on Paris from February 25 to March 5 to attend 93 shows featuring the newest designs for Fall/Winter 2014. Paris Fashion Week featured many innovative designs in both clothing and accessories. Here are some trends in handbags this year.
Models on the catwalks in Paris carried their purses at hip height. The look created a new silhouette to compliment the trendy clothing worn by models strutting down the runways. Carrying handbags at hip height is expected to become a trend this year.
Some handbags were medium-sized and classic shapes, making them both fashionable and functional. Classic, boxy-shaped purses, bags with both shoulder straps and top handles, and oversized envelope clutches were popular on the runways in Paris.
Other designers featured handbags, such as those modeled by Saint Laurent, that were so tiny that they could barely hold anything. Tiny bags are expected to continue to be a trend this year, in addition to larger bags that will also be popular.
Handbags are expected to be colorful next season. Primary colors were popular with Dior, and baby blue was also a popular shade on the Paris runways this year.
Some fashion designers used handbags in unconventional ways in their shows. Balenciaga had models carry three bags each down the runway, while Chanel's models carried shopping baskets covered with chains filled with their classic 2.55 bags.
Expect to see these new handbag trends featured by celebrities and sold in your favorite stores this year.