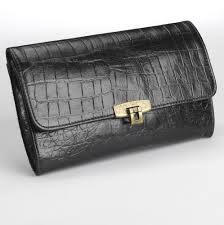 The right handbag can be the perfect compliment to any fashion. Here are some tips to help you choose the right one to match your style.
A patent handbag is perfect for daily use. Whether you need a bag for work or a casual get-together, a patent handbag is the ideal choice.
Oversized handbags are always in style. If you like to carry a lot of items around so you are prepared for anything, go with an oversized tote bag.
If you carry a lot of small items and don't want to have to dig around searching for them in a large handbag, a pocket bag is the right choice for you. Choose a bag with enough pockets to hold all the items you use on a regular basis.
A convertible handbag can hang across your body or be carried in your hand. Make the strap longer for times when you are on the go and make it shorter for a chic look.
If you are overwhelmed by a large bag, go for a mini handbag. Pick a bag that is just large enough for the basics.
The clutch is the hottest handbag this year. This type of bag offers a vintage style for someone who is constantly on the go. Choose a clutch that is just the right size to hold the essentials.
Metallic handbags are becoming a hot trend. Choose a fashionable color that will accent other items in your wardrobe.
While the colors that are in style may change, white is a classic color that is always trendy.
Choose a handbag that compliments your body type. Try on several and see which one looks the best and feels the most comfortable. Consider your personal style and how it will accentuate other items in your closet when making your choice.