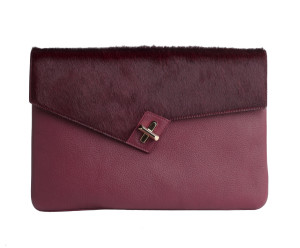 Swedish designers Ela and Martin Aldorrson have created a line of trendy ela handbags that are now being sold at Saks Fifth Avenues around the country.
The handbags are known for their simple elegance. The Aldorssons select a theme every season that serves as the basis for the handbags' designs and colors. Ela Aldorsson often skips the sketching process, instead making a paper mock-up to figure out the bag's scale, function, and design to speed up the process of bringing the handbags to life. The handbags are then tested for a few weeks to see how they function and if any changes need to be made. The final samples are then shown to buyers.
The first handbag the pair designed was the MILCK clutch, which was created to hold the essentials: money, ID, lipstick, cell phone, and keys. It was designed to have a unique asymmetrical shape that would be instantly recognizable, even without a logo. The rest of the handbags in the collection followed from that first design.
The Aldorssons are influenced by the style of many A-list celebrities, including Gwyneth Paltrow, Miranda Kerr, and Emmanuelle Alt and their everyday styles. They also draw inspiration from styles they see on the streets of Europe and New York and in magazines and department stores.
The ela fall 2014 collection is about romance and striking a balance between feminine and masculine details. The new handbags in the collection will include stamped and digitally printed marbled leather that appears to be chiseled from stone, muted camouflage that combines all of the colors of the collection, and pearls. The designers are currently collaborating with Club Monaco and are designing exclusive silhouettes for Saks Fifth Avenue and Holt Renfrew, a Canadian department store.