As the seasons change, it's not just about the cooler weather and new sports games to watch. A new season also means shoppers are looking for fashionable items to buy to transition their wardrobes. As a retailer, it's your responsibility to deliver.
The crop tops and floral maxi dresses of summer are now likely stuffed to the back of consumer's closet's to make room for the next round of clothing and accessories they'll purchase.
Here's a rundown of the hottest trends this fall and what you should consider stocking for customers.
Scarves
With the start of fall, you'll likely see people starting to pile on the layers of clothing to keep warm, and be fashionable. A staple in this look are scarves. Thin scarves with fun prints and thicker, blanket-like scarves can all be worn different ways to complete an outfit.
Ponchos
This fall, much of the fashion being seen on the runway and on the streets has a Boho-vibe. Sticking with this theme, there is an increasing demand for ponchos. This clothing item is more relaxing than a sweater and means jackets can be left at home.
Slip-on Shoes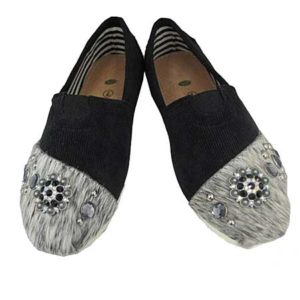 Fall weather isn't exactly boot-worthy. But flip flops won't work either. As a happy, and comfortable medium, slip-on shoes are taking over closets this year. The easy-to-wear and versatile footwear can be dressed up or down and will likely also be seen again in spring.
Leggings
For another season we see the return of leggings as an important staple in wardrobes. The forgiving pants return each season with new pairings to keep outfits comfortable but stylish. For 2017, the idea is to wear leggings as fashion items and pair them with a moto-jacket or ankle boots versus just as lounge wear.
Crossbody Bags
Keeping up with the trend for comfort, handbags that are popular this fall include crossbody handbags that can be worn across someone's chest, and leave their hands free for other tasks. Keeping the bag small enough to carry just the essentials while adding a statement to an outfit seems to be the go-to way to wear these accessories.
Transitioning through seasons is an important task for retailers as shoppers come to find new, fun items on your shelves. Stock up on all your wholesale fashion needs and be prepared to make sales with inventory from Best Handbag Wholesale.