The fashion world has spoken. One of the hottest sweaters and outerwear items to have in your closet for the fall/winter season in 2017 is a poncho.
These garments were traditionally used in South America and cover the top half of the body like a shirt or a blanket would and have a slit to be put on over the head. Typically they were made of wool and kept users warm. Later uses included an easy slip-on rain coat made of waterproof material.
This year, ponchos are replacing sweaters in every day wear and they're even being swapped out in place of coats.
If you're a retailer, paying attention to these important fashion updates is vital to keeping your shelves stocked with the hottest items consumers will be looking for. Here are a few more reasons to keep ponchos in mind next time you're ordering inventory or planning your sales pitches.
Warm
Ponchos made of wool or a cable knit material are warm enough to keep you cozy while you walk around the chilly streets or comfy as you watch a sporting game outside. They can also be worn over a short or long-sleeved shirt for everyday wear, or dressed up for the office.  This year's trend is also to go bold and wear embellishments on the ponchos so be sure to put out displays that will peak interest as well displays that are classy to inspire shoppers.
Great for Layering
One trend we see return again and again in the fall is layering. While past seasons saw flannels and bubble vests, this year it's all about layering for comfort. Pair over a shirt, add a scarf, belt or even an additional jacket over top. The main focus is to use a poncho that is big, soft and fluffy as the accent for the winter wardrobe.
BoHo Trend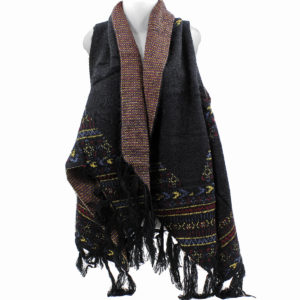 This fall a big focus is on BoHo style and that means comfort. Big over sized ponchos that drape and hang effortlessly over the shoulder and tribal designs are just some of the BoHo-chic vibes sure to be in demand as the colder months roll in.
Now's a great time to stock up on wholesale apparel for the upcoming season. Best Handbag Wholesale offers wholesale prices that can't be beat.  Stock up today!