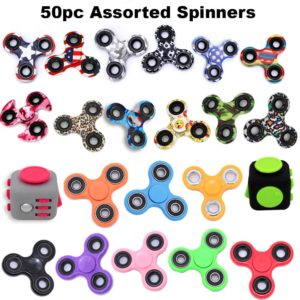 The holiday shopping season is typically the best time of year for retailers. It's when consumers flock out in droves and open their wallets to buy up products. Innovative companies understand the need to deliver inventory that it's in high demand. One of this year's hottest toys, the fidget spinner, is a no-brainer item since it can be used by so many different market segments.
Here are some unique uses for fidget spinners to push with your marketing plans as you design your store layout for the upcoming holiday season.
Fidget Spinners for Mom
You might not be thinking about shopping for mom when you think about how to promote fidget spinners for upcoming holiday shoppers, but there is a market. After all, who could use stress relief more than the one probably in charge of dinner, laundry and getting the kids to all of their activities? Fidget spinners have been said to reduce stress by helping ease the mind from excessive thoughts that may evoke anxiety. Plus, if mom has a fidget spinner she can keep it as a tool in her purse when she's out with the kids and needs to keeps them occupied and quiet. Consider ordering colors that appeal to women and that can be used as a fashionable accessory. Also stock them near the jewelry and other similar items shoppers are browsing for gifts.
Fidget Spinners for Grandpa
One of the great things about fidget spinners is that they are helping those with ADHD and depression to focus and remain mindful. Another market to consider targeting for fidget spinner use is the elderly. What better gift for grandpa than a toy he can enjoy more than another tie or pair of socks this holiday? As an advantage for Alzheimer's and dementia patients in particular, fidget spinners are being used already to calm their hands and soothe their mind. In addition, the devices could help those with arthritis to ease pain and stiffness. If you're clientele is usually the older community, you'd do well to buy a bulk order of fidget spinners and set them out for users to try and buy.
Fidget Spinners for Teens
Younger children are the most talked about demographic when it comes to fidget spinners. They are using the toys for some fun and distraction and as tools to help with concentration and hyperactivity. But teens are another great market to target for holiday gifts. After all, the devices themselves were invented by two high school age teens. One thing adolescent like is to show off their style. Fidget spinners come in a great variety of colors, shapes and finishes.
At Best Handbag Wholesale we have options galore when it comes to fidget toys you can buy in bulk for retail sale. Stock your shelves with a variety of Fidget Spinners to please any age or gender before the holiday season heats up.