Wearing pants is a privilege many of us are probably happy women fought for in the years before our time. Let's be real, skirts aren't comfortable or practical for everyday use. There's really nothing better than wearing leggings or yoga pants when you're lounging, running errands, or just looking for something stylish and comfortable to wear.
Legwear
Traditionally, legwear has been used to describe hosiery items that are worn on the legs like pantyhose, stockings and socks. Today, the lines have become blurred between hosiery and leggings. Depending on the fabric, leggings can be worn either as an undergarment or as pants.
Apparel items for the legs can be dressed up or down and are an important staple in today's wardrobe. Wearing pants or legwear is so great in fact, that there is even a holiday dedicated to celebrating the capability. September 22 is "National Legwear Day."
Do you have your shelves stocked?
Selection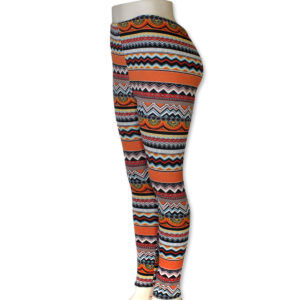 As a retailer, you should have a large selection of inventory for your customers. Different colors and patterns of legwear will draw in customers and can even create repeat customers.
Current fashion trends have seen leggings that are fun, colorful and jeweled being used to create memorable outfits.
At Best Handbag Wholesale, we have a variety of legging options to choose from. From basic black leggings lined to keep you warm in the winter, to cotton material leggings or yoga pants with fashionable rhinestone embellishments, also available in plus sizes – to satisfy an expanded customer base.
We also have leggings available in fun patterns such as tribal prints and patchwork designs that are popular today.
Quality
Our boutique quality leggings are lined with a warm inner lining so customers can wear them throughout the winter without worry of their legs getting cold.
While stocking up on winter leg apparel items, consider also adding Boot Knit Cuffs and warmers to your inventory. Each season winter booties and knee height boots return as statement pieces for consumers. These accessories are the perfect fashion pairing to complete their outfit.
Best Handbag Wholesale offers a stylish selection of wholesale handbags, purses, wallets, and women's fashion accessories, for resale.
If you're a retailer, flea market vendor or e-commerce seller, keep your inventory fresh and stocked with items that customers demand. Shop Now!