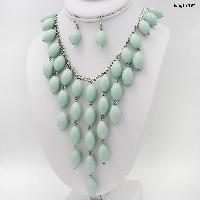 During the summer, people all over the United States go to flea markets looking for clothing, accessories, and many other types of items to purchase. Jewelry of all kinds can be found at flea markets and is one of the most popular types of items that customers seek.
If you are a flea market vendor who sells necklaces and pendants, you want to offer pieces that will immediately catch the attention of customers who may be overwhelmed by the jewelry they see at dozens of other booths and unsure which pieces to choose. You want to stand out by offering unique and quality pieces that set you apart from the competition.
Why You Should Sell Western Necklaces and Pendants at a Flea Market
Western jewelry is popular with many women all over the country. They love to wear bright, colorful pieces with glittering gems. Western necklaces and pendants can be paired with both casual and formal outfits to allow the wearer to make a fashion statement. You can attract new customers to your flea market booth by offering Western style necklaces and pendants this summer.
Fashionable Necklaces and Pendants Available at Best Handbag Wholesale
Best Handbag Wholesale offers an impressive selection of beautiful Western style necklaces and pendants that are made of quality materials. We have an assortment of necklaces in a variety of lengths made with glittering turquoise, rhinestones, gemstones, brass, and prism-cut glass. We have necklaces and pendants made from designer hair on hide materials that offer a chic look for contemporary outfits. Best Handbag Wholesale offers genuine cowhide pendants decorated with several types of popular ornaments. Our selection also includes stylish slider necklaces and chokers.
Order Necklaces and Pendants from Best Handbag Wholesale Today
If you are searching for necklaces and pendants that you can sell at your flea market booth this summer, Best Handbag Wholesale is the place to go. We have a wide array of fashionable Western necklaces and pendants made from quality materials at affordable prices. You can buy in bulk and earn a profit at flea markets held throughout the summer. Look through the impressive selection of necklaces and pendants at Best Handbag Wholesale and place your order today.